Product ID : 43LT572M0UC
Manufacturer: LG
Description
43LT572M0UC 43" class (42.5" diagonally) Standard Hospital Grade Television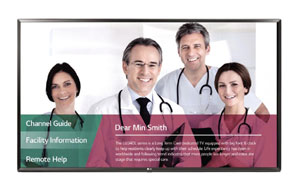 Click photo for larger image.

| | |
| --- | --- |
| Model # | 43LT572M0UC |
| Panel Technology | Direct LED |
| Resolution | 1920 x 1080 (FHD) |
| Aspect Ratio | 5 Modes: 16:9, Just Scan, Set by Program, 4:3, Zoom |
| Tuner | NTSC-ATSC-QAM-VSB |
| Hospital Grade | YES |
---
| | |
| --- | --- |
| • | Designed Specifically for the Healthcare Industry |
| • | UL Hospital Grade Listed |
| • | Energy Star® Qualified |
| • | RoHS Compliant |
| • | California Energy Commission (CEC) Compliant |
| • | Multi IR Code Support |
| | |
| --- | --- |
| • | Built-in MPI Port |
| • | TV Speaker Disable |
| • | Built-In Pillow Speaker Compatibility |
| • | First Use Wizard |
| • | LG's Exclusive Pro:Centric Application Platform |
| • | Supports Java™ and Adobe® Flash® Application (Pro:Centric Single Tuner) |
| | |
| --- | --- |
| • | Remote Management of Television Using Pro:Centric server (PCS200S) |
| • | Dynamic/Static Power Savings |
| • | Restriction of Hazardous Substances |
| • | Integrated Pro:Idiom® Digital Rights Management Technology |
| • | MPEG-2 / MPEG-4 H.264 Decoding |
| • | Splash Screen Image/Logo (On Startup) |
| | |
| --- | --- |
| • | Customized Welcome Screen (Pro:Centric application feature) |
| • | USB Cloning |
| • | 2 Year Limited Warranty (parts and labor) |
| • | TV Stand: Not Included |
---
LG Hospital Televisions Key Features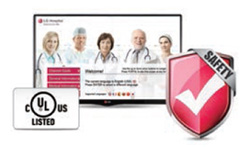 Convenient for Patients and Hospital Staff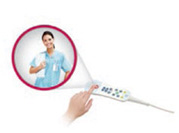 Nurse Call System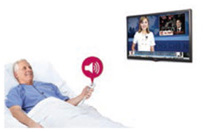 Pillow Speaker
Smart Share™
Enjoy and share content stored on your laptop, digital cameras, smartphones and other devices to the TV seamlessly.
*Video playback only - content on phones can play on the TV through the Smart Share app on compatible LG smartphones.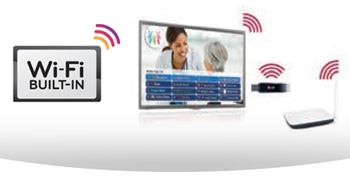 Wi-Fi Built-in
Similar to a smartphone, LG's Pro:Centric Smart TVs have WiFi built-in, allowing greater connectivity and access to and from the TV.

Cloning Using A USB memory Device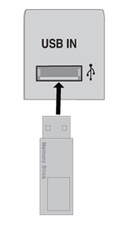 The LG Healthcare televisions have a convenient time and expense saver feature. Installer Menu settings, along with a select number of setup menu features are cloning capable, and an FTG Channel Map may also be cloned.
Cloning typically refers to the process of using a Master TV Setup to configure a Target TV. The installer sets up the Master TV with preferred menu settings, and then saves (exports) the settings to a file on the USB memory device. This file may then be transferred (imported) to the Target TV(s) via the same USB device.
This time saving technique will allow the installers to configure each LG compatable TV in the hospital facility in a matter of just a few minutes per TV.

Global Leading Digital Rights Management System
Pro:Idiom unlocks access to premium content to help assure rapid and broad deployment of HDTV and other high value digital content.
Pro:Idiom has been designed specifically for users of premium HDTV content from cable, satellite, or video on demand (VOD) services, and is thus designed to lower costs and reduce maintenance needs. This leading DRM system is embraced for its security solution, which prevents illegal copying of copyrighted content.

Reduced Total Cost of Ownership
Using LG's optional Pro:Centric server, you can remotely manage cloning and channel mapping for TVs in patient rooms without having to visit each room.
EzManager's auto configuration function makes installation quick and easy. EzManager guides the installer to set up the TV with simple steps without having to set up the menu manually, saving time and cost.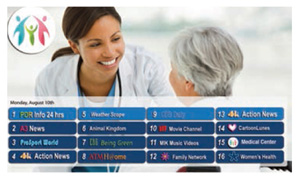 Pro:Centric Applications Platform
Interactive Patient Room Experience
LG Healthcare televisions are industry leading television that supports the Pro:Centric platform that allows healthcare facilities to customize the patient room experience. Pro:Centric provides an easy way for the television to interface with interactive program guides, games and internet data feeds, as well as applications designed to connect patients to services such as dietary menus and patient room information.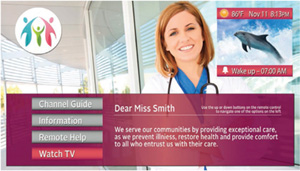 LG's Free-To-Guest Cost Effective Solution
When these TVs are configured for LG's Free-To-Guest Mode of operation (either via CPU or EBL), remote management options are available, as described below. With remote management, individual room visits are no longer required for TV configuration updates, including FTG Channel Map and FTG Installer Menu settings updates, thereby saving labor costs.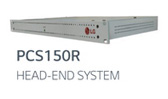 Free-To-Guest Remote Management Head End Devices
Pro:Centric Server
Remote management of the FTG Channel Map and FTG Installer Menu settings may be provided by a Pro:Centric server. The Pro:Centric server Admin Client web editor/content wizard also enables users to remotely update the Pro:Centric application features.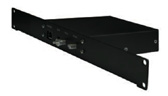 Free-To-Guest Remote Management Appliance
LG's Free-To-Guest Management Appliance (FMA) delivers the FTG Channel Map to the patient rooms, via the hospital's RF distribution.
Products You May Like