Medical Monitors
---
TB&A is pleased to offer the Panasonic EJ-MLA32U-W and EJ-MLA37U-W Medical Monitors for hospitals and healthcare facilities. For more information or to order, call TB&A at 1-800-288-7351.
Please scroll below to review product information.

32" & 37" Class Full HD Widescreen Medical Monitor
The Panasonic EJ-MLA32U-W and EJ-MLA37U-W, 32" & 37" Medical Monitors are designed for viewing medical imaging and picture archiving and communication system (PACS). It features (2) DVI, (1) S-video, and CVBS input, a 1920 x 1080 native resolution, and a fast 8ms response time. The technology is synonymous with a fast response speed and homogeneous response time in any gray of liquid crystal and the optimal structure to precede a large number of high speed signals without data loss by using copper wiring with low resistance values.
One important feature the monitor includes is IPS technology. IPS panels display accurate and consistent color from any viewing angle. Normal panels can only display partial true color. The discrepancy is normally more than two times in terms of color shift. IPS panels are 20 times better than normal panels in comparative changes in gamma shift.
The monitor's 1000:1 contrast ratio and 400 cd/m brightness rating make it a great choice for the medical field. The EJ-MLA32U-W and EJ-MLA37U-W offers a vivid and clear picture, stable response time of liquid crystal and its smart driving technology.
In-Plane-Switching Technology (IPS-Pro)
The new Panasonic medical displays implement the latest evolution of In-Plane-Switching technology, IPS-Pro, which provides excellent color images with a very high contrast ratio from almost all viewing angles.
Consistent Performance
Medical imaging applications require highly consistent performance and accurate image reproduction. IPS-Pro substantially improves viewing angle, brightness, contrast, black levels and switching speed, producing the best solution on the market for multi-modality medical imaging.
Accurate Image Reproduction
When viewed from a wide angle, a monitor with non IPS-Pro display will exhibit a poor contrast and inaccurate colorimetry. In a non-medical environment, this performance limitation is not critical, but in medical imaging systems, color accuracy is vital and aids medical professionals during surgery. IPS-Pro TFT technology defeats the restrictions of conventional LCD display technology in terms of wide viewing angle, contrast ratio, brightness, and color accuracy.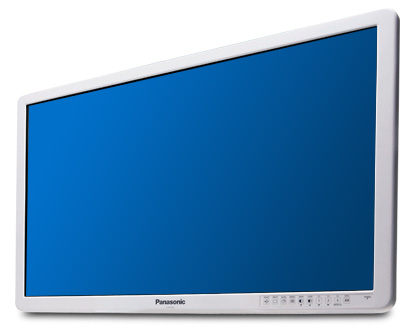 Display of High Quality Vivid Medical images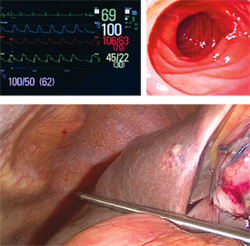 The IPS-Pro LCD provides beautiful and natural images even when viewing from a wide angle (from either side and above or below the display).
Features Include:

•

Designed and certified for medical operating room environment
•
User selectable picture-in-picture or picture-out-of-picture
•
Side-by-side display of 2 HD images;independent adjustment of each
•
Three simultaneous screen display possible,such as surgical image,vital signs,etc.
•
Multiple HD inputs are standard,no need to purchase optional input board(s)
IPS Technology
Includes a wide view angle with IPS panel technology.
HD Dual Input
The unit offers HD-SDI (2 input)/DVI-D (2 input).
Triple Display
The EJMLA32UW provides dual display (PIP/POP), triple display (PIP/POP) and reverse display.
For more information or pricing on Panasonic Medical Monitors, please call 1-800-288-7351, or contact your TB&A Representative.