To Order Call 1-800-288-7351
Telehealth Cart for Teleray Video Call System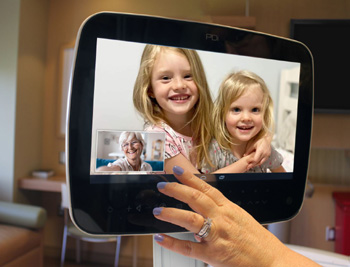 A Fully Intuitive User Experience
PDI-TC16 – 15.6″ Touchscreen, Cart, Includes First Year of Teleray Software
PDI-TC19 – 18.5″ Touchscreen, Cart, Includes First Year of Teleray Software
Designed to Meet Healthcare Needs During COVID-19
The PDi Telehealth video call cart system with HIPAA-Compliant Teleray Software capability upholds PDi's high standards for safety, cost-effectiveness and functionality for healthcare.
Integrated Camera/Mic on 16″ or 19″ UL-Listed Hospital Safe Touchscreen Display means a "no fuss" solution for healthcare staff
Requires Internet Signal (WIFI or ENET) and AC Power. NO dead batteries.
Safe and Easy to Use for Video Calls by Patients and Senior Living Residents to Stay Connected with Friends and Families
Simple, Portable Telemedicine, Easy to Implement By Healthcare Staff
Built for Infection Control and Use During the Coronavirus and Beyond. Includes a basket to hold disinfection wipes
1-Year Subscription of Teleray Included with Initial Purchase.

Click here to download PDF Spec Sheet (472k)
Specifications
Model Numbers:
PDI-TC16 – 15.6″ Patient Touchscreen Display, Cart, Includes First Year of Teleray Software
PDI-TC19 – 18.5″ Patient Touchscreen Display, Cart, Includes First Year of Teleray Software
Cart Specifications:
Height: 48″ (122 cm)
Max. Arm Extension 17″ (43 cm)
Wheel Base: 19″ x 22″ (48 cm x 56 cm)
4″ Casters
Weight: 33 lbs (15 kg)
UL-Listed hospital-grade touchscreen device
For use with Teleray HIPAA-Compliant software for telemedicine, by Nautilus Medical. First year Teleray subscription included with initial purchase and includes free tech support by Nautilus Medical for one year.
Healthcare providers can quickly initiate a telehealth consult
Senior residents or patients can easily video chat with staff, friends and family too!
Built for healthcare disinfection standards and infection controls. Includes a basket for disinfection wipes.
Android™-based OS
48″ tall mobile cart
Adjustable arm height and TV tilt
4″ Smooth gliding casters, rear locking
Easy to move on carpet or hard floors
Small footprint wheel base 19″x 22″
Integrated ENET cable or use WIFI
AC powered, no batteries
AC Power cord wrap
Easy to clean and disinfect
Few parts to assemble
2-year warranty
Also See PDi Mobile Cart for medTV® and medTAB®
Note: GPOs and purchases on contract, please call us at 1-800-288-7351 for pricing and purchasing details.