---
Thermal Camera Temperature Screening Kiosk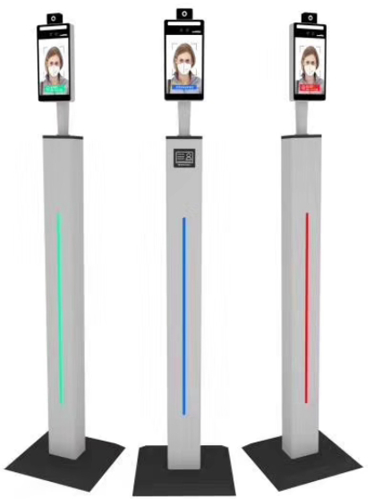 Non-contact IR scanner to check for elevated body temperatures
Model Number: PDI-TK8 - 8" System
Automatic Temperature Reader to enhance Safety during COVID-19
Fast temperature scanning of employees, patients or visitors using an accurate thermal imaging camera. Can also be set to screen for mask use.
Saves Resources and Time on Shift Change
Automatically determines if the user has a mask on or not, AND can instruct the user to put a mask on.
Accurate Temperature Reader
Supreme scanner accuracy with variance of +/- 0.9 deg F (0.5 deg C)
Availability: Lead-time 5-6 wks due to high demand
Features
NOTE: Temperature Screenings are designed to Detect Fever, yet this device Does Not provide a medical diagnosis. Follow manufacturer specifications for proper operation.
Thermal Imaging Camera for non-contact human body temperature screening as a first line of defense to identify the presence of a fever as a symptom of COVID-19 or other contagious illnesses

Mask recognition technology is ideal for healthcare workers or persons entering a building wearing a face covering

Fast, accurate scans

Temperature accuracy +/-0.9deg Fahrenheit

Android-based™ OS

Angle of face recognition within 30deg L/R and up/down

Small footprint

Few parts to assemble

1-year warranty
Specifications
Model Number: PDI-TK8, 8" LCD Screen, Thermal Scan Temperature Screening Kiosk
CAMERA:
Resolution: 2 megapixels
Effective Pixels: 1920x1080
Type: wide horizontal angle dynamic camera automatic white balance automatic backlight optimization
Aperture: F2.4
Focal Length 4mm / 6mm
HUMAN BODY TEMP. PARAMETERS:
Focusing Height: 3.9 ft - 7.2 ft (1.2m - 2.2m)
Recognition Technology: Support mask wearing recognition + infrared array thermography temperature detection
Recognition Time: 0.3sec
Temperature Measurement Range: 68-212deg F (20-100deg C)
Temperature Measurement Distance: 1'-7" (0.5m)
Temperature Accuracy: +/-0.9deg F (0.5degC)
DISPLAY SCREEN
Size: 8" LED backlight
Type: Capacitive Touchscreen
Resolution: 800 x 1280
Life: 50,000 hrs
PROCESSOR:
OS: Android 7.1
CPU: Rockchip RK3399 Hexa-core processors 2 Cortex-A72+4 Cortex-A53
Memory: 2GB
Storage: 16GB eMMC. MicroSD(TF) up to 128GBTF
INTERFACE:
Network Module: Ethernet and WiFi
1*RJ45 10M / 100M / 1000M adaptive Ethernet port
Support 2.4g/5g WiFi, support Wi Fi 802.11b/g/n protocol/Bluetooth4.1
Audio: 1* / MIC interface, external headphone audio output socket (GB: GND, MIC, R, l)
USB: USB3.0*1; RS485*1
GENERAL SPECS:
Power Type: DC12V/1.8A 60HZ
Note: GPOs and purchases on contract, please call us at 1-800-288-7351 for pricing and purchasing details.