Product ID : SF650P, SF650
Manufacturer: Peerless-AV
Description
MODELS: SF650P, SF650
MAX LOAD: 175 lbs
Boundless placement opportunities and speedy installations are delivered in one low-profile package. The ultra-slim SF650 adapts to any installation environment with its open wall plate architecture that delivers screen placement flexibility, simplified access to electrical access and cable management options. This ultra-slim mount is the supreme solution for low-profile applications.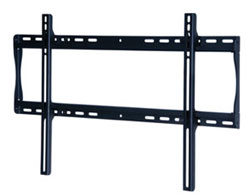 Components and Ordering:
Product ships with mount and wall plate. PLP model screen adapter plate sold separately.
1) To determine what PLP adapter plate to use, visit www.peerless-av.com and use the Mount Finder feature. 2) For metal stud mounting order accessory metal stud togglers (ACC415). 3) For concrete wall mounting order accessory expansion anchors (ACC204).
For more information on any hospital television products, please call 1-800-288-7351, or contact your TB&A Representative.