---
To order this product call 1-800-288-7351 or contact us for pricing and more information.
Please scroll below to review the 6000K Series features, or click on the individual models below for specific details.
7000X

Series
Compatible with the convertible mobile stand, allowing the panel to go to table-top mode

Capacitive touch capabilities, with the ability to detect pressure for thin or thick lines when writing as well as palm rejection

Offered in sizes 55″and 65″

Pen and touch recognition
Ultra HD Resolution
A crystal-clear, anti-glare LCD display with True HD Resolution ensures that everyone in the room or huddle space can see the board in perfect clarity – no matter the room lighting.
Built-In PC & WiFi Module (Optional)
Walk-up ready interaction with a familiar 4K Android interface allows users to pull up all of their apps and resources directly from the panel or any wirelessly connected device. The panel can move freely around the organization, accessing the network and tools through a built-in PC or WiFi module.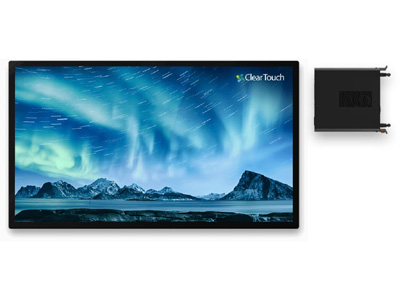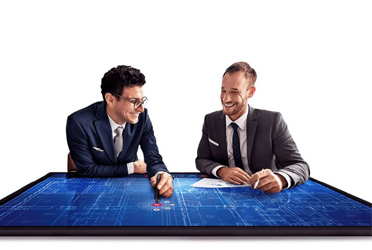 Capacitive Response Multi-Touch Technology
Capacitive multi-touch screen with high accuracy allows for multiple users to interact with the board at the same time. Just like your iphone, the panel can tell when you press harder or softer and change the thickness of lines to accommodate.
Up to 20 points of touch (even on Mac devices) including palm rejection – so you capture the information you want-not the those you don't.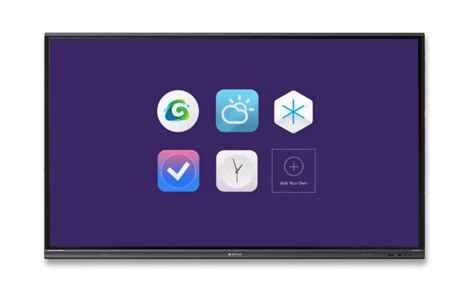 Software Agnostic
Connect from any device and use any software. The 7000X panel allows the entire company to work with the devices and software they are comfortable with – use our software or yours- your team can choose what applications they need to do the job right.
Connect to the Panel Wirelessly
Up to four users can connect to the panel wirelessly from any device through our Clear TouchCollage software. Or, with our Clear Touch Chorus software, users can stream content, annotate, run conference calls and share screens from onsite or offsite locations, all from one application.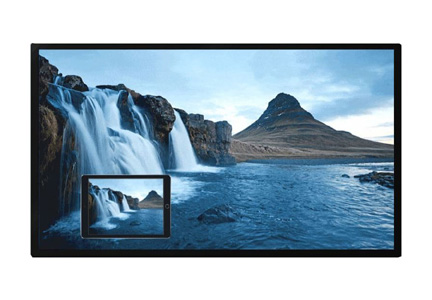 Remote Updates
With Command, your IT team can see and update all panels remotely from a centralized computer, instead of disrupting offices or conference areas. In addition, IT can remotely set power controls and send text messages to individual or organizational-wide panels.
Built-In Audio
Turn sound on with a single touch and adjust volume levels directly on the panel. No cords or A/V expert required.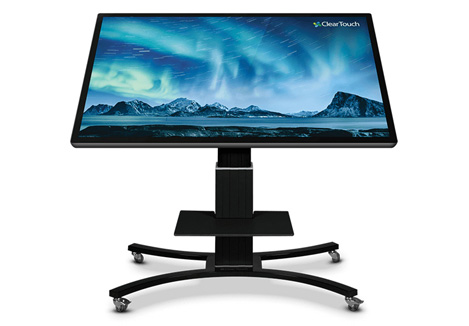 Convertible Mobile Stand (Optional)
The convertible mobile stand has been designed exclusively for the 7000X Series panels. It features a fully adjustable height and tilt, and can be rolled around the room. The electrical powered stand makes adjustments simple and has a quiet electrical motor. The tapered base provides greater accessibility for all users.
For model specifications click on individual models below, or for more information or pricing, please call 1-800-288-7351, or contact your TB&A Representative.
Note: GPOs and purchases on contract, please call us at 1-800-288-7351 for pricing and purchasing details.