UR772M Series NanoCell Hospital TV with Pro:Centric® Hospital Management Solution, UL Hospital Grade Listed, & Embedded WebRTC. Available in 65″ model.
To Order Call 1-800-288-7351
UL Hospital Grade Listed Hospital TVs with NanoCell Technology
Nano Bezel Adds Sophisticated Ambianc
Pillow Speaker Ready
Commercial Installer Menu
USB Cloning
Pro:Centric® Hospital Management Solution
Embedded b-LAN™
Pro:Idiom®
Easy Set-up with Wizard
Embedded WebRTC to Accommodate Video Chat Development
Gallery Mode
SoftAP
Multi-code IR

Model #
65UR772M
Backlight Type
Edge
Resolution
3,840 x 2,160 (4K UHD)
Dynamic Contrast Ratio
1,000,000:1
Tuner
NTSC, ATSC, VSB, Clear QAM
MPEG-2 / MPEG-4 H.264 Decoding
Hospital Grade
YES
Click here to download PDF Spec Sheet (4.5mb)
LG Hospital Televisions Key Features
UL-Listed Hospital TVs with NanoCell Technology
The UR772M series, LG NanoCell Hospital TV, can be used to provide important information from the hospital to patrons. It can also be used to display art (Gallery Mode) or provide entertainment.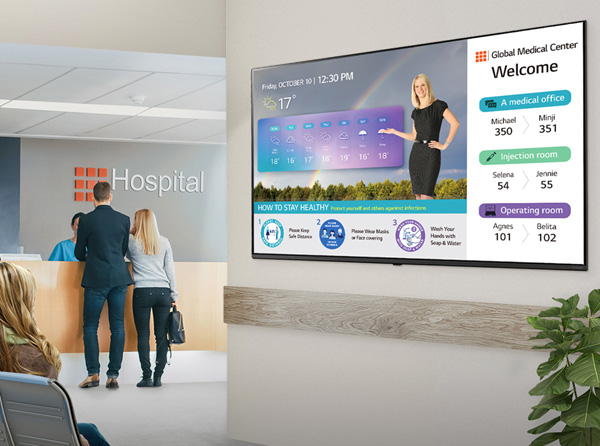 Hospital-Focused Functions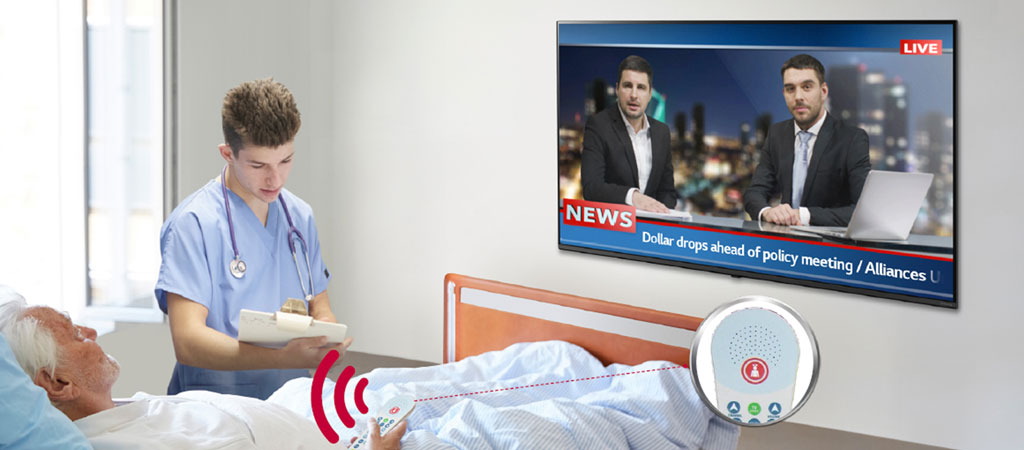 Pillow Speaker Ready
The NanoCell hospital TV is equipped with the interface compatible with a pillow speaker which controls sound and videos on the TV directly from a patient's bedside.
Commercial Installer Menu
Over 100 configurable features to accommodate install in the patient room.
UL Hospital Grade Listed
The UR772M series is designed for the healthcare and hospital environment, meeting safety requirements by UL.
Embedded WebRTC to Accommodate Video Chat Development
LG NanoCell Hospital TV's include WebRTC (Web Real-Time Communication) which provides real-time communication (RTC) via simple application programming interfaces (APIs). These API's are used by our System Integrator Partners to bring video chat to the patient room.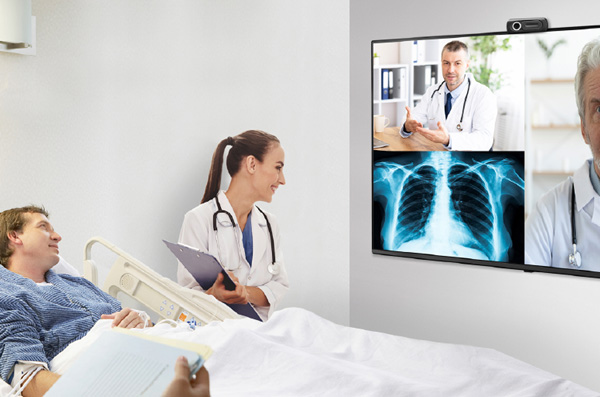 Pro:Centric® Hospital Management Solution
The hospital content management solution, Pro:Centric® Direct, offers easy and simple editing tools, making it easy to perform service and IP network-based remote management. The Pro:Centric® Direct solution enables users to edit their interface easily by providing a customized interface and efficiently managing all TVs in the hospital.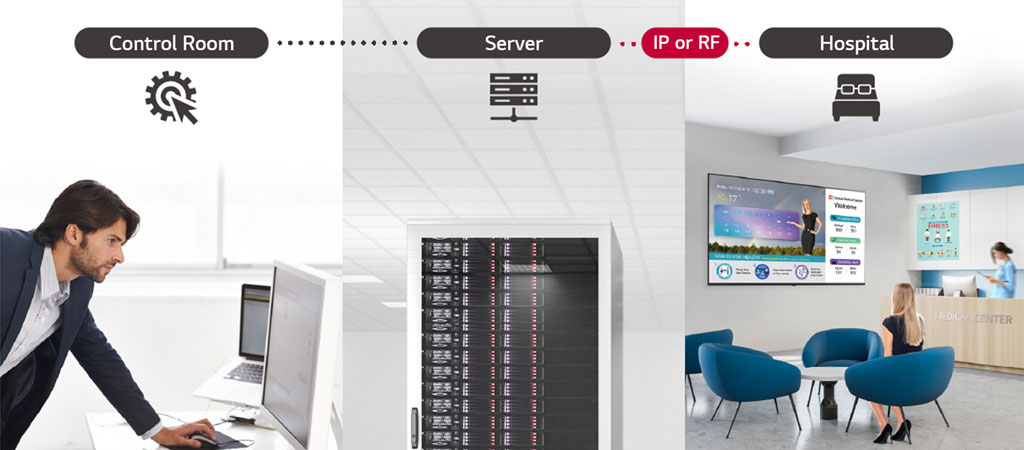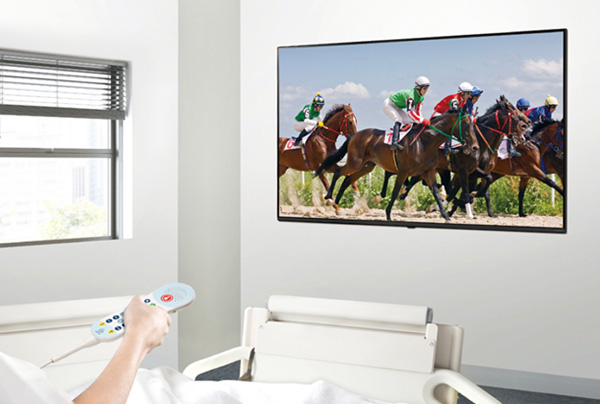 Embedded b-LAN™
LG NanoCell Hospital TVs support embedded b-Lan™, enabling video on demand (VOD) without the need for a set top box.
Pro:Idiom®
The UR772M provides embedded Pro:Idiom® decryption unlocking access to high-value digital content with Pro:Idiom® DRM (Digital Right Management), which prevents illegal copying of the content. This is a requirement by most premium content providers when displaying their programming.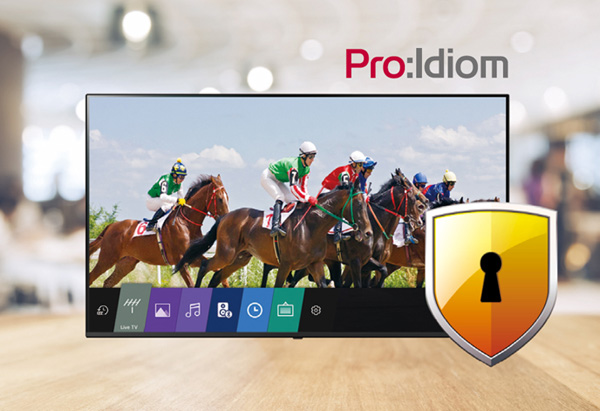 Easy Set-up with Wizard
LG's First Use Wizard provides easy and intuitive GUI showing detailed initial settings required for hospital use. There is no complicated coding needed, the manager can select from options provided.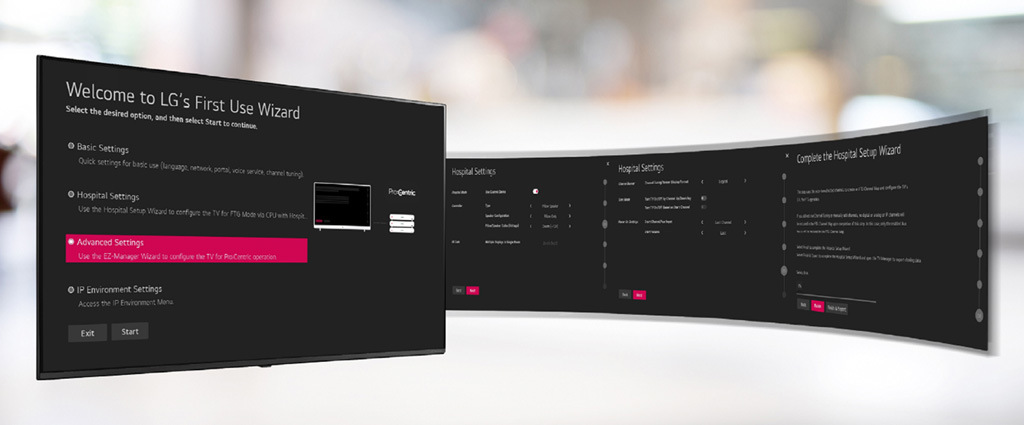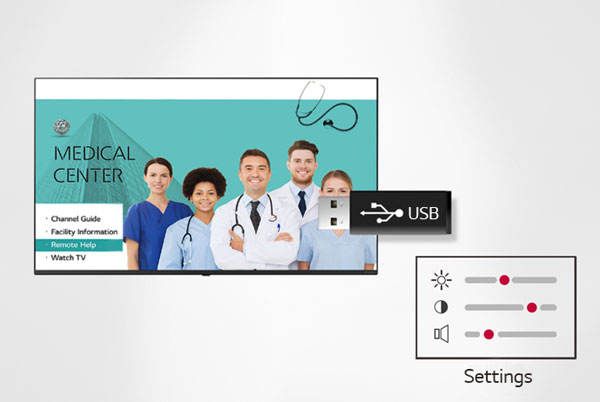 USB Cloning
USB data cloning makes managing multiple displays more efficient for optimal operation. Instead of setting up each display one by one, data can be copied to a USB from one display, and be sent to the other displays through a USB plug-in.
Gallery Mode
Equipped with LG's webOS™ 5.0 platform, the UR772M series has the latest LG Smart TV features. Newly added Gallery Mode and Mood Display functions support the TV to be an artwork or a customized clock which harmonizes with the space where it is.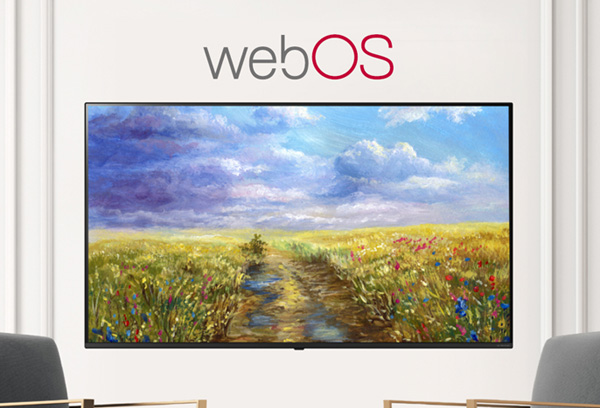 SoftAP
Software-enabled Access Point (SoftAP) is a "virtual" Wi-Fi feature that uses the TV as a wireless hotspot, enabling patients to connect their own devices to the SoftAP. It supports Bridge Mode, allowing administrators to manage in-room SoftAP information such as signal level, SoftAP passwords, etc.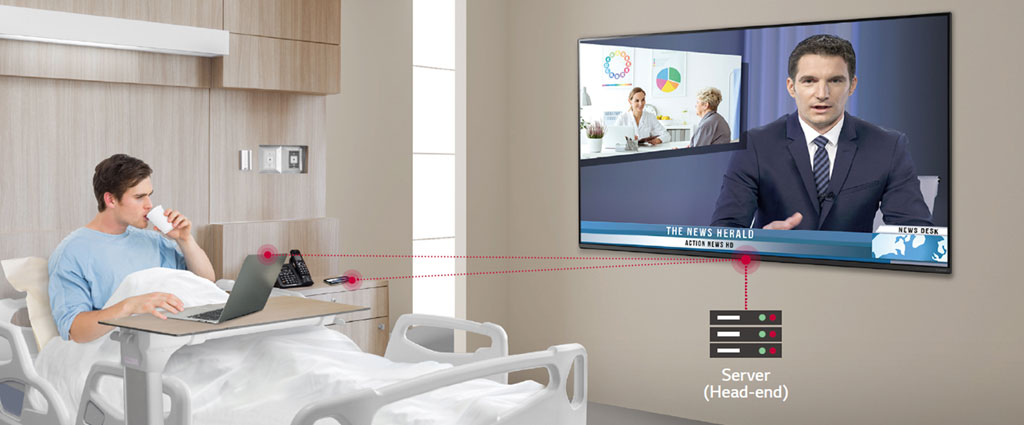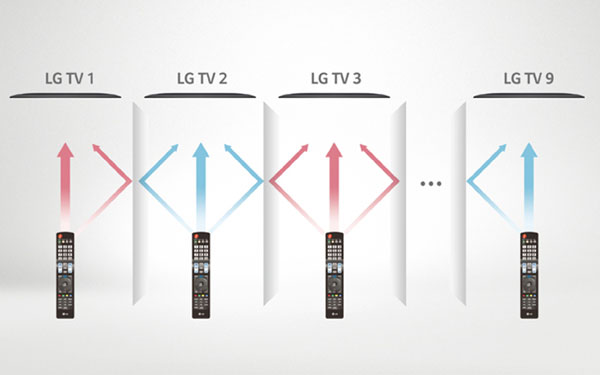 Multi-code IR
Multi-code IR remote control feature provides the ability for each LG display and IR remote* to be configured to prevent interaction with other LG displays installed in the same area. LG NanoCell hospital TV supports this, so users can freely control their own TVs without disturbing the others.
Note: GPOs and purchases on contract, please call us at 1-800-288-7351 for pricing and purchasing details.
---
You may also be interested in the following models.