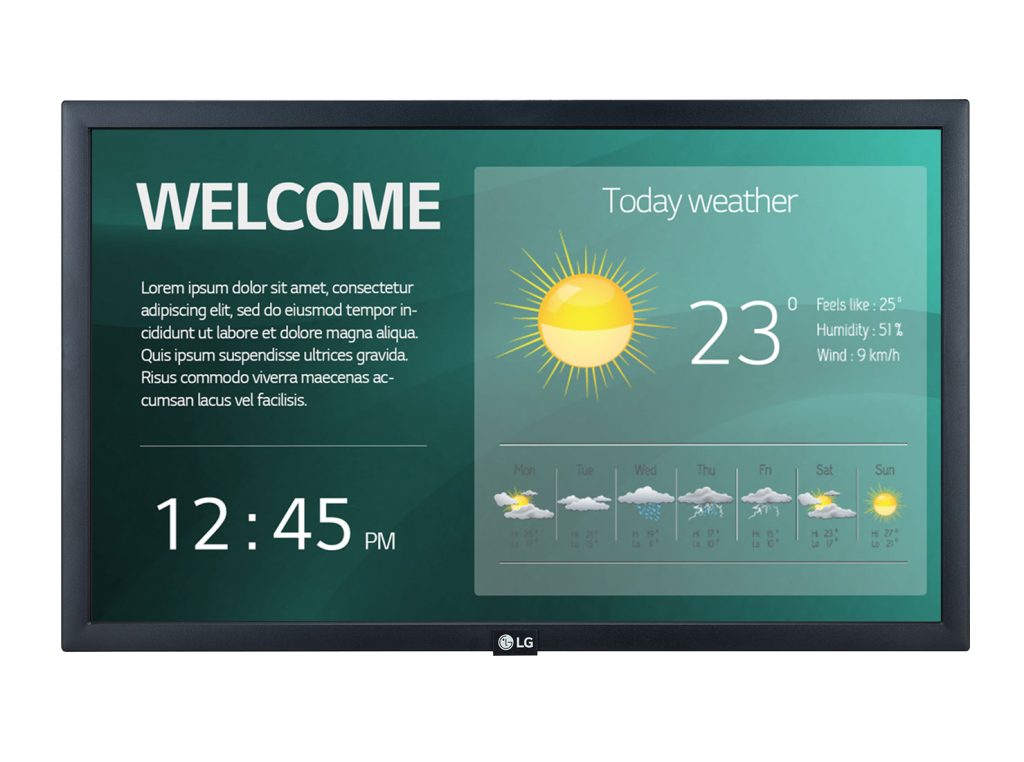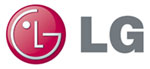 SM3G-B Series
22" Digital Signage with Utilities for Commercial Spaces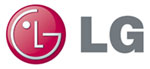 The 22SM3G-B IPS FHD LED Back-lit Digital Display with Embedded CMS, Quad Core SoC with webOS™ 4.0, Smart Signage Platform, & Built-in WiFi.
To Order Call 1-800-288-7351
Native Resolution 1,920 X 1,080 (FHD)
Brightness(Typ.) : 250 cd/m²
Bezel : 16.3mm
Depth : 53.8mm
Interface : HDMI(2) / USB 2.0 / RS232C / RJ45 / IR / Audio
USB Plug & Play, Built-in Wi-Fi

Click here to download PDF Spec Sheet (3.6 mb)
Key Features
22SM3G-B effectively delivers information in various commercial spaces. With its webOS platform and embedded CMS, it is a must have solution.
SMART SIGNAGE PLATFORM
High Performance SoC with webOS
Built-in Quad Core SoC can execute several tasks at once while providing smooth content playback without the need for a media player. Also, LG webOS smart signage platform enhances user convenience with intuitive GUI and simple app development tools.
SMART SIGNAGE PLATFORM
Various Sensor Applications
LG webOS smart signage platform easily supports connections with external sensors such as GPIO, NFC/RFID, temperature sensors, etc, via USB plug-in. The overall cost for maintenance is reduced as there's no need to purchase additional software or media players.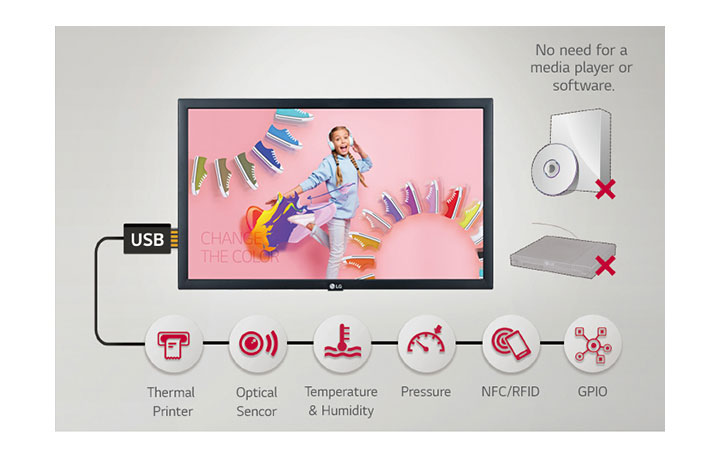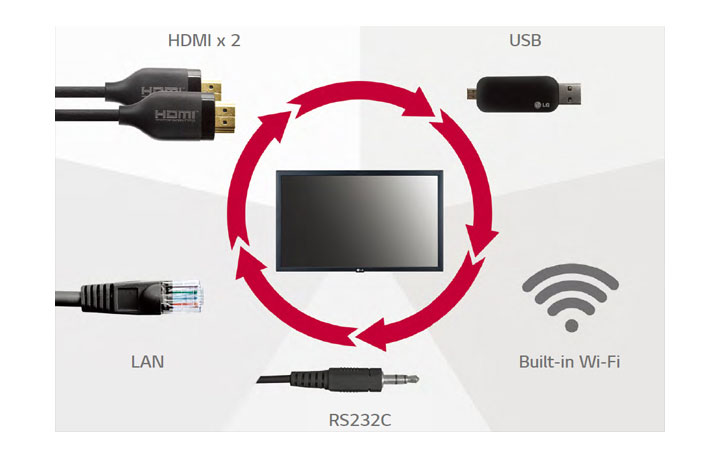 SMART SIGNAGE PLATFORM
A Wide Range of Interfaces
Through its diverse interfaces, users can connect the display with various sources for optimal use. Also, the fail-over function supports users preparing backup sources in case an unexpected error occurs.
SMART SIGNAGE PLATFORM
USB Plug & Play
22SM3G supports USB Plug & Play feature, so users can easily set content playback using a USB.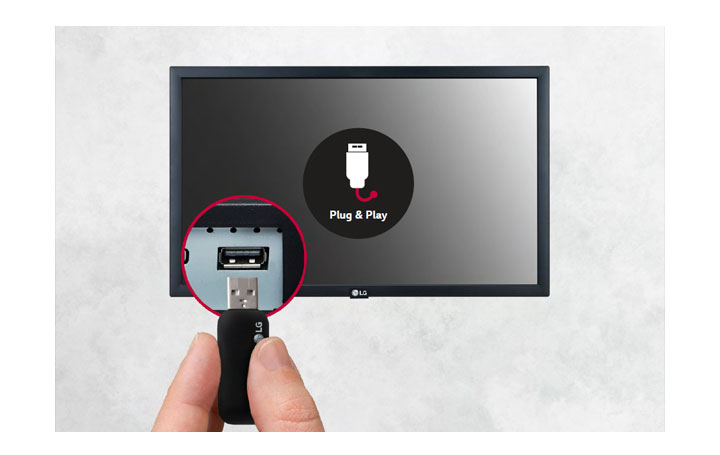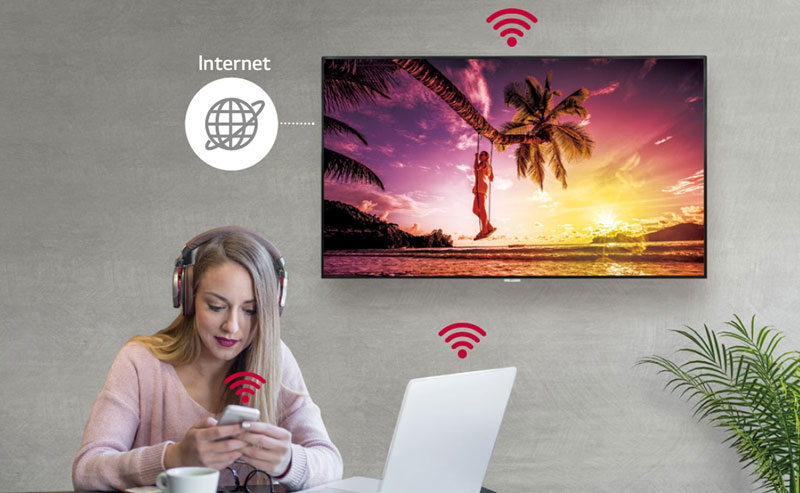 SMART SIGNAGE PLATFORM
Wireless Access Point
22SM3G-B operates as a virtual router which can be a wireless access point for mobile devices.
SMART SIGNAGE PLATFORM
Remote Monitoring and Control
Through the Control Manager, the embedded web monitoring solution, you can control and monitor the status of multiple 22SM3G displays in different locations in real-time. It is available on internet-connected devices, allowing you to flexibly and rapidly respond to emergency situations anywhere.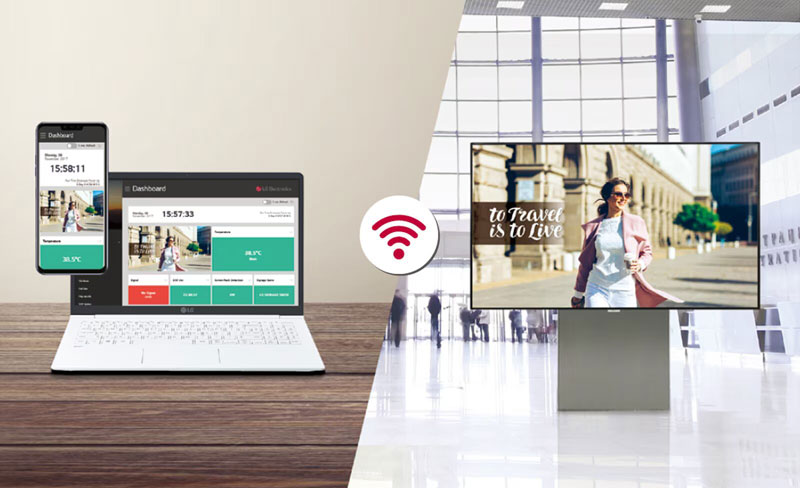 To Order Call 1-800-288-7351
Note: GPOs and purchases on contract, please call us at 1-800-288-7351 for pricing and purchasing details.