DVD Players
Please click on category links or scroll below for DVD Player information.
---
LG Blu-ray players deliver picture and sound quality so clear, you'll feel like you're right in the action.
With an array of possibilities, you can build and organize your media library and enjoy your favorite movies, photos, videos and music with ease.
Explore the amazing features like:

SmartTV
What good is all the entertainment in the world if you can't find what you want quickly and easily? An intuitive easy way to access limitless content, thousands of movies, customizable apps, and videos all organized in a simple to use interface.

Blu-ray disc playback delivers exceptional Full HD 1080p video performance, along with Bonus-view for a picture-in-picture. Perfect for playing all your Blu-ray movies and enhancing your existing DVD movies.

With Blu-ray and Blu-ray 3D you can enjoy all the latest movies in Full 1080p picture resolution. Perfect for playing all your 3D or 2D Blu-ray and DVD movies. Better yet, our line of Blu-ray Disc™ Players upscales existing DVDs to near HD quality. 3D TV sold separately and viewing 3D video content may cause discomfort.

Cut loose from messy wires. Integrated Wi-Fi® Connectivity allows you take advantage of Internet Entertainment Access from any available Wi-Fi® connection, anywhere in its range.

Browse and share files from external storage devices on your TV screen, or access files from your PC, tablet or smart phone via Wi-Fi. Sharing is easy over Wi-Fi with LG blu-ray player with SmartShare.

No need to go out and replace your old DVD collection. Even they look better on Blu-ray. Standard DVD Up-Scaling delivers exceptional image quality from standard DVDs with 1080p up scaling via HDMI output.

Are your remote controls taking over your living room? Now with SimpLink you can easily set up and control all of your HDMI™ connected LG devices with just one remote.

Want to view a highlight reel of the family vacation in the comfort of your living room? USB Media Host lets you view family photos, watch videos and listen to music from USB storage devices.
---
Below are featured LG models, for other models or more information please call 1-800-288-7351, or contact your TB&A Representative.
---
BP330
LG BP330 Blu-ray Disc™ Player with Built-In Wi-Fi®
THE CONTENT YOU WANT AT YOUR FINGERTIPS
Bring the best Internet services direct to your TV—no computer required. Instantly access movies and TV shows, news and weather and the world's largest library of HD movies in 1080p.
Key Features
| | |
| --- | --- |
| • | Premium Content |
| • | Blu-ray Disc™ |
| • | Built-In Wi-Fi® |
| • | Plays DVD |
---
BP530
3D-Capable Blu-ray Disc™ Player with Smart TV and Wireless Connectivity
Enjoy 3D Blu-ray Disc™ movies in Full HD 1080p. Also supports standard Blu-ray Disc movies in high definition and upscales DVDs to near HD quality.
Key Features
| | |
| --- | --- |
| • | LG Smart TV |
| • | Private Sound Mode |
| • | 3D Blu-ray |
| • | Built-In Wi-Fi® |
---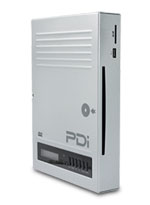 Click photo for larger image.
PDI-DVD-SH
PDI UL Listed Hospital Grade DVD Player
The PDi Hospital Grade DVD player combines highend digital components in a rugged design that is UL Listed for hospital use. A 2-year warranty combined with specific features like RF IN/OT, multiple mounting options and Bed A/B features provide piece of mind for faciltites and their patients. Compatible with DVD, VCD, DIVX, MPEG4, CD, MP3 and JPEG formats.
Key Features
| | |
| --- | --- |
| • | Progressive Scan Technology |
| • | Anti-Jam Technology |
| • | Durable (2 Year Warranty) |
| • | Channel 3 RF output |
| • | Remote Included |
•
Interfaces to any TV
•
Component Output Y Pb Pr
•
HDMI and Composite Video
•
SD/MMC/MS Card Reader
•
Compatible with DVD, VCD, DIVX, MPEG4,
CD, MP3 and JPEG formats
For more information or pricing on any television products, please call 1-800-288-7351, or contact your TB&A Representative.
---