To Order Call 1-800-288-7351
Customize your medTAB® with GENiO™
GENiO™ gives you the power and flexibility to provide a customized patient user interface affordably and easily.
Create a custom user interface for medTAB® to deliver the education, entertainment, and information your patients need.
Easily and affordably customize PDi Smart TVs your way with patient education, surveys, telehealth, remote messaging and more.

Click here to download a GENiO™ spec sheet (1.0mb)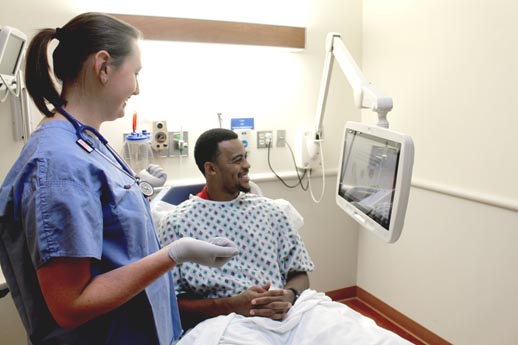 How do you engage patients? Access to your education videos, daily menus, video calls, bed or chairside messages, patient surveys? GENiO is a cloud-based software that offers all of these items and more! Get Genius Smart, Get GENiO!
GENiO™ Remote Management Capability to Customize Your Patient Experience
A GENiO subscription increases your communication with patients, reduces the need to interrupt patients, and allows you to keep your patient user interface fresh and up to date.
Main Menu and Submenus
Main menu and submenus with up to 10 icons. Select from GENiO's many standard icon options or have a custom icon designed to meet your specific requirements
Customized Education
Deliver your preferred education with links to your patient education portal or to publicly available videos and websites
Branding/Logo
Upload your facility logo to the user interface and choose a background color that complements your branding.
Branding/Internet
Change the standard home page, google.com, to your facilities website
or any desired website
Icons, Apps, & More
Enhance the patient experience with applications for video calls,
streaming services, links to daily menus, music, translation, and much more
Subscription Admin Web Portal – Full access to GENiO™ administrative web portal
Message Delivery
Remotely communicate to patients with one-way messages sent to
medTABs
Patient Survey
Receive feedback from patients with time to respond with GENiO's
patient survey tool
Admin Remote Device Management and Troubleshooting
Manage your medTAB devices remotely, no need to enter isolation rooms or disrupt patients
Note: GPOs and purchases on contract, please call us at 1-800-288-7351 for pricing and purchasing details.