medTV 16″ Arm-Mounted Hospital Grade Widescreen Patient HD Television
Product Number
PDi-P16TV
Display
Diagonal Size 15.6" (39.6cm)
1920 x 1080 Display Resolution
LED Backlight
Lamp life up to 50,000 Hours
TV Features
USB Clone for Programmable TV settings
Extended panel life
Password protected set-up menus

Click here to download PDF Spec Sheet (1.2mb)
For a similar 19″ model see the PDi-medTAB19

Click here to download the PDi Touchscreen Personal Patient 19" TV Spec Sheet (1.2mb)
A Great TV Experience Meets Healthcare Standards
The medTV is designed for infection control. The glass front can withstand rigorous cleanings and the antimicrobial plastics help limit HACs.
Designed for Secure and Easy Setup
Easy USB cloning makes TV set-up and updates quick and simple and password protected set-up menus prevent patients from altering settings with IR remotes or remote control phone apps.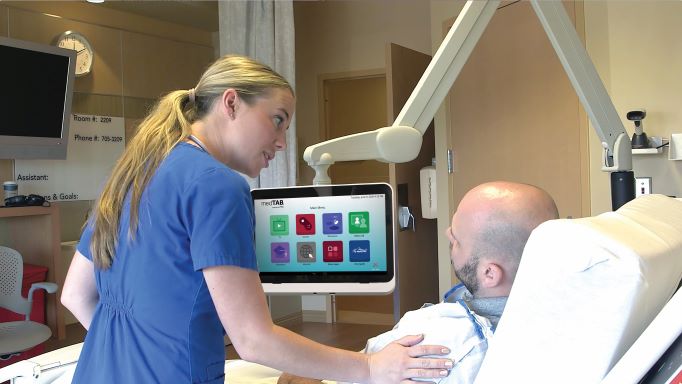 Delivers Patient Satisfaction
Pro:Idiom® makes it easy to keep every patient entertained with more HD channels. These securely mounted TV displays reduce neck, back, and eye strain. Patients and staff enjoy the quiet of front-facing speakers or headphone jacks.
Superior Viewing Experience
A personal display mounted in close proximity to the viewer is equal with a 90″ TV screen across the room.
Arm-Mounted Bedside HD Television Designed for Comfort
The medTV sets the standard in personal bedside, hospital-grade TV entertainment. Available in 16″ and 19″ bedside TV displays.
The medTV arm-mounted HDTV reduces neck, back and eye strain by providing an adjustable arm-mounted TV to your patients without sacrificing a high quality viewing experience. The medTV display is equipped with MPEG4 and Pro:Idiom® giving access to more HD channels with DirectTV or Satellite programming. Patients appreciate it's simple backlit touch keypad to easily control volume, channels, and settings.
Hospital Grade, UL Listed, low voltage, widescreen HDTV
Large, easy to push, direct entry channel buttons allow patients to access their favorite channels with ease
Extended panel life, designed to last more than 7 years when powered on 18+ hours per day
Easy USB cloning makes TV set-up and updates quick and simple
Password protected set-up menus prevent patients from altering settings with IR remotes or remote control phone apps
Channel aliasing and remapping allows facility staff to customize and simplify channel line-ups
Compatible with PDi swing arms or available as VESA 75 x 75 mount resulting in a mounting solution for any situation
Standard cabinet color is starlight gray. Ask about black and cream
3-year warranty included or upgrade to 5-year Gold Vision Service Warranty (GVS)
You also may be interested in the following models