Patient Engagement Board & High Haze Signage
The ML5K Series allows patient engagement providers to combine the security of electronic medical records management with the familiar experience of a personalized information board. This smart signage is UL-listed for hospitals and the 32″ size can even be powered over ethernet cable (PoE) which can help minimize impact of installation in existing patient rooms.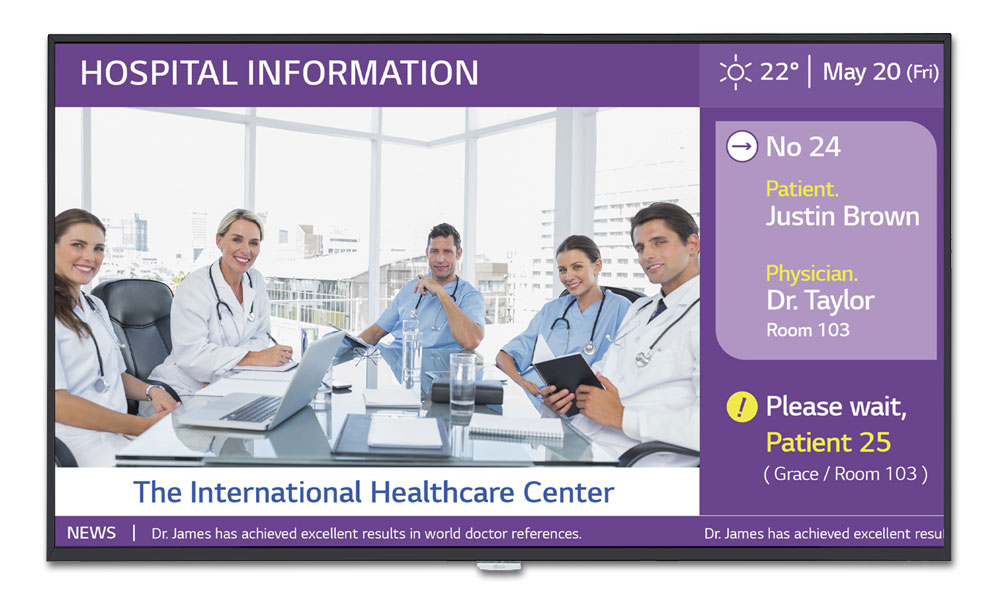 Click here to download PDF Spec Sheet (1.4mb)
43″ Key Features
Brightness : 500 nit (Typ.)
Surface Treatment (Haze) : 25%
Resolution : 3,840 x 2,160 (UHD)
Bezel : 8.4 mm (T/R/L), 14.4 mm (B)
Depth : 39.9 mm
Interface : HDMI(3) / DP / DVI-D / USB 2.0 / RS232C / RJ45 / Audio / IR, etc.
32″ Key Features
Brightness : 400 nit (AC Mode) / 200 nit (PoE++ Mode)
Surface Treatment (Haze) : 1%
Resolution : 1,920 x 1,080 (FHD)
Bezel : 13.0 mm (T/R/L), 18.0 mm (B)
Depth : 55.5 mm
Interface : HDMI(2) / USB 2.0 / RS232C / RJ45 (PoE++) / Audio / IR, etc.
To Order Call 1-800-288-7351
Maximize Patient Engagement with webOS
Patient Engagement Providers deploying the ML5K series will find the LG webOS Signage platform enhances user and system integrator convenience with an intuitive user interface and simple app development tools.
UL Listed for Hospitals
The ML5K series is designed specifically for use in hospital patient room environments meeting applicable UL listing requirements.
Light Sensor with Auto Brightness
To ensure the patient room is kept at the appropriate brightness for the needs of the patient, the ML5K series uses a light sensor to automatically adjust the brightness of the display to correspond appropriately with its surroundings in the room.
32″ PoE++ Mode
Install 32ML5K easily without AC power plugs and sockets. PoE++ (Power over Ethernet) mode is available on 32ML5K, which brings an integrated network and power connection via RJ45, without using an electrical outlet.
Note: GPOs and purchases on contract, please call us at 1-800-288-7351 for pricing and purchasing details.