To Order Call 1-800-288-7351
Reach17™ SpaceSaver
Infusion Comfort System
For medTV and medTAB Patient Devices.
Model PD168-066
Transform the patient space and improve the patient experience by delivering easily-accessible entertainment, centered around the patient. Select the REACH17 SpaceSaver Arm System for an innovative power mount for rear-mounted 14″, 16″ and 19″ PDi displays to entertain patients.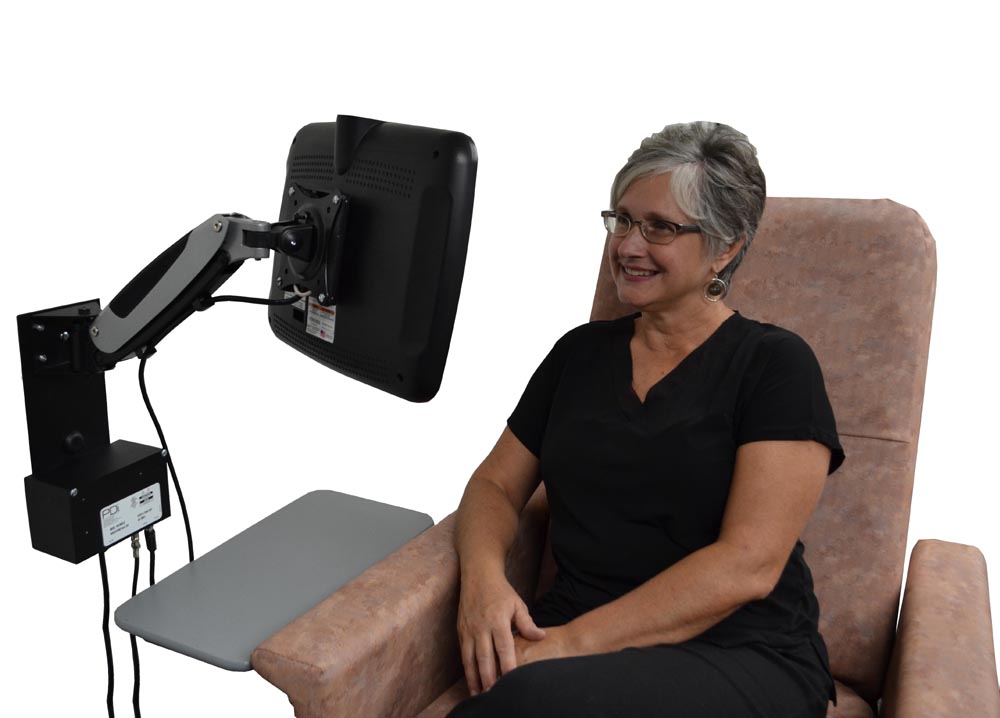 Designed For Small Infusion Spaces
With single stud construction and 17″ reach, the new compact arm and power system, designed for 14″, 16" and 19" low-voltage patient entertainment systems, works great in small spaces, like infusion areas.
Best In Comfort For Long Hours Of Treatment
Patients can easily adjust the full-motion arm to any comfortable posture during long hours of treatment.
Puts Patients In Control
Within arm's reach, this personal solution allows the patient to position their medTV or medTAB without any assistance, providing them the ultimate feeling of control.
Makes The Patient Space A Safe Space
The compact design frees up space for clinicians. Plus, low-voltage, continuous power is delivered without trip hazards with self-contained cables.
Specifications
Compatible with Rear VESA 14″, 16″ and 19″ medTV and medTAB low-voltage devices. VESA pattern 75×75 or 100×100 mm.
Max Reach 17″
Weight Capacity 13 lbs/5.9 kg
Lift 20.5" above base of power box
Lower 1.5" beneath base of power box
Power over Coax (PDI-750AS-B)
Voltage Input 120-240 VAC
Output 24 VDC at 2.5 amps
Features
Mounts to a Single Stud for Easy Installation
Shields along Base of Arm Provide Cable Control
Sleek Design Saves Space and Folds Easy
Antimicrobial Powder Coated Mount and Power Box
Standard 2 Year Warranty
Available in Black only
Note: GPOs and purchases on contract, please call us at 1-800-288-7351 for pricing and purchasing details.