Television Remotes, Head Sets & Accessories
To Order Call 1-800-288-7351
TB&A carries a full line of universal television remotes, headsets and accessories. Please scroll down to review available products and more information.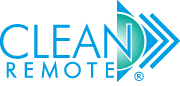 Hospital Television Remote
Clean Remote® is scientifically tested to carry 99% less Bacteria than other remotes
In several studies, TV remotes have been revealed to be a leading carrier of bacteria in a patient's room. Not only are they handled continuously throughout the day by patients, but remotes are also handled by staff and visitors. Standard remotes and nurse call pillow remotes contain many cracks and crevices, which make it impossible to properly disinfect. The easy-to-wipe non-porous surface of the Clean Remote® makes it simple to clean and disinfect.
99% Cleaner
Spillproof
Simple One Touch Setup (no codes needed)
Works Over 200 Brands of Commercial and Retail TVs
No Menu Button (patients and guests cannot change settings)
Hidden Battery Compartment (helps prevent batteries from disappearing)
Uses 2 AAA batteries
The Clean Remote® offers direct channel access (numbers 1 – 9 and 0) whereas most pillow remotes have only channel up and channel down arrows, which patients cycle through all the channels to get back to a specific channel.
Note: Clean Remote® will not operate with Lodgenet or On Command movie systems. Also will not work TV/DVD, VCR or DVD/VCR combination units.

Click here to download PDF Spec Sheet (560k)
Clean Remote Info Link Page – www.cleanremote.com/infolink-TBA
Brightstar
Model: BR100B
TV Only Universal Remote for Hospitality & Healthcare
No menu button prevents guest from changing setting on remote.
No codes needed for these brands:
LG
Philips
Magnavox
RCA / GE
Zenith
Panasonic
Vizio
Easily programmable for 250 other brands.
Screw on Battery Cover – Optional screw included with each remote.
For more information or pricing on any television remote products, please call 1-800-288-7351, or contact your TB&A Representative.
Note: GPOs and purchases on contract, please call us at 1-800-288-7351 for pricing and purchasing details.