Looking for a hospital television?
The people at TB&A are Hospital TV experts. We provide commercial and hospital grade televisions, television mounts, television equipment, patient education systems and more, to hospitals and healthcare organizations. Contact TB&A today to save time and money for all your hospital television needs.

New PDi medTV

14" & 19" Bedside HDTV with a Simple, Easy-To-Use Interactive Patient System.
LEARN MORE >

Digital Aquarium

Add the calming benefits of an aquarium to your hospital without the mess of a real aquarium.
LEARN MORE >

Panasonic Medical Monitors

Designed for viewing medical imaging and picture archiving and communication system (PACS).
LEARN MORE >

Hospital Grade Televisions

Nobody knows hospital grade televisions better than TB&A.
LEARN MORE >

Unbeatable customer service since the days of the "tube caddy". Watch our video to learn more.
TB&A Hospital TV News
LG's 55" Hospital Grade Television
LG introduced the addition of a 55" Hospital Grade TV to it's LX774M Series.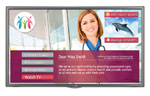 Product Specs:
Model number 55LX774M
Pro:Centric Smart
Includes b-Lan
Includes WebRTC
Includes Commercial Smart Apps
Click here for more info.
The Hotel/Hospital Safe You and Your Guests Can Rely On
VIEW NOW >
---
TB&A is proud to serve these and other leading organizations. Click here for more information.




Our monthly newsletter features product spotlights, promotions and more.
SIGN UP NOW >