Contact TB&A Hospital Television
To contact TB&A, please use the information below or submit our online Contact Form below.
Toll Free Phone: 1-800-288-7351
Toll Free Fax: 1-888-691-5268
Email: Use Contact Form Below
Phone: (716) 691-0385
Fax: (716) 691-5268
Address: 20 Pineview Drive
Amherst, New York 14228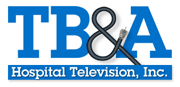 Contact/Request Form
Form Instructions: Complete the appropriate information and press the "Submit Request" button below when complete.
*Your name, phone and valid email address are required items on this form.